Our Tuftex Selection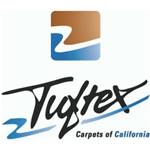 Carpet One of San Ramon offers a wide variety of popular carpet brands such as Tuftex. Tuftex carpet is and has always been American-made. In fact, Tuftex is based right here in California! So, when you choose a new Tuftex carpet, you choose a carpet that will undoubtedly fit into your home setting.
Given its California roots, all Tuftex carpets seem to offer a "West coast" style. There are many different colors and shades from which to choose, including beiges, golds, browns, blues, and reds. Also, Tuftex offers four different styles: twist, pattern, loop, and texture. Twist carpet has a casual look, and it offers tremendous appearance retention. Pattern and texture carpets, as you can imagine, offer unique looks and feels that can truly set your design apart from the rest. Loop carpet is strong and typically soil resistant, so it's great for heavy traffic settings.
Tuftex also utilizes different fiber types, but its nylon carpet is probably the most popular. Nylon is synthetic, so it offers multiple looks and feels. It is stain resistant and wears well in areas with high traffic. Plus, nylon carpets are usually easy to clean. Tuftex nylon carpets are therefore perfect for those who want style and sophistication without sacrificing stain resistance.
Click here to check out the Tuftex 2016 New Product Catalog.