Outdoor Floors & Area Rugs
Enjoying the great outdoors doesn't require a road trip- in fact, there's so much to enjoy right in our own backyard. Finding the perfect flooring for your patio, poolside, or winding garden path is an important step in composing your perfect outdoor oasis. At Carpet One Floor & Home in San Ramon, CA we offer up a comprehensive inventory of outdoor flooring products, as well as weather-friendly and fully customizable area rugs by brands like Nourison and Sisal. Ready to add that final finishing touch to your porch or patio? Call us today to learn more.
Our Outdoor Flooring
Making your outdoor gathering spots more inviting and functional, outdoor flooring and area rugs set a firm foundation for everyday life as nature intended. Heavy duty luxury vinyl flooring, all-weather carpeting, and area rugs are among the many products we offer. An outdoor area rug is a very affordable, yet effective way to change the mood and tone of an outdoor seating area or covered screen porch.
Want to learn more about our outdoor area rugs and outdoor-friendly flooring options? Call us today at (925) 575-8790.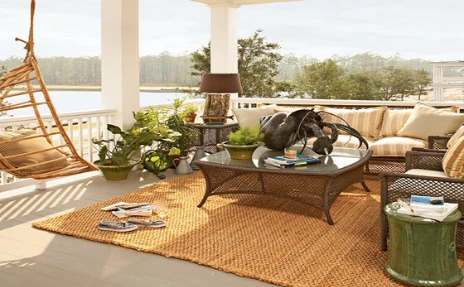 More on Outdoor Flooring & Area Rugs
Our Area Rugs

Area rugs and carpeting remnants can be a wonderful finishing touch for your porch or deck. Complement your style with the perfect textures and shapes, while protecting your flooring from the elements.