Quality Hardwood from Mohawk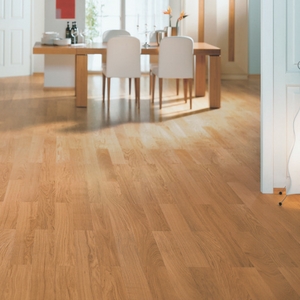 Mohawk is without a doubt one of the most popular names in flooring. There are a variety of Mohawk flooring options, including soft surfaces, hard surfaces, and resilient. Carpet One of San Ramon carries a selection of Mohawk hardwood flooring. Mohawk hardwood offers unique natural looks, as well as long-lasting strength and durability.
Mohawk hardwood is available in both solid and engineered constructions. Its is made from a genuine strip of real wood that is typically 3/4" thick. As a result, it is strong and stable, and it can be refinished multiple times. Mohawk's engineered hardwood is made from different layers of real wood that are cross-directionally layered. It is available in plank of longstrip format. Engineered hardwood offers greater dimensional stability, so it can be installed above and below grade.
There are multiple natural looks available throughout Mohawk's hardwood selection. Mohawk utilizes a number of wood species, including cherry, walnut, oak, maple, and hickory. Also, Mohawk offers four different classes of hardwood. Its Refined Class is the highest grade of hardwood, so it has the most uniform color without any blemishes. The Traditional Class has more natural character since it can include lighter or darker boards. For even more character, Mohawk has a Vintage Class that shows more natural variation in light and dark boards. Finally, the Character Class has the most variation, and it has distinct knots and mineral marks.
Not sure which Mohawk hardwood floor is right for your next project? Stop by our San Ramon, CA showroom to work with one of our flooring experts today! And, be sure to take a look at our hard surface page to learn more about our hardwood options.