Luxury Vinyl Plank
Are you envisioning wide-plank hardwood for your upcoming renovation, but to be honest, your space is poorly suited for it? Luxury vinyl plank is a terrific alternative. Featuring all of the latest trends and styles, and realistic textures and patterns inspired by various tree species, this affordable synthetic works great in all types of settings. At Carpet One Floor & Home of San Ramon, CA we offer up comprehensive inventory of luxury vinyl flooring, including some stunning plank offerings.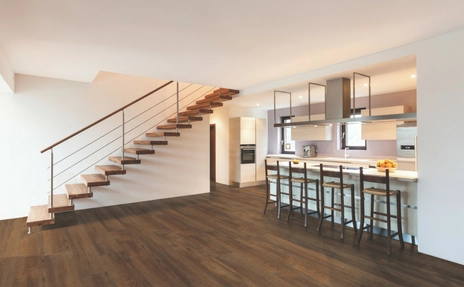 Benefits of Luxury Vinyl Plank
Despite being very, very different products at heart, luxury vinyl plank and hardwood look and feel VERY much alike. But make no mistake: these easy-care planks have a care plan that's simply perfection. Unlike actual hardwood flooring, luxury vinyl planks will never require sanding or polishing, nor will they shrink or expand from humidity. And that's just the beginning.
Comprised in dense synthetic layers, luxury vinyl is coated to resist everyday scratches and dents. It's resistant to moisture and can readily be clicked into place, never needing adhesives. There are even planks that are completely waterproof, so it's possible to enjoy high hardwood style in your finished basement – even in your bathroom. Want to learn more about our luxury vinyl plank options? Stop by in our showroom, located at 1985 San Ramon Valley Boulevard, today, and browse our displays.