Aquarius Luxury Vinyl Flooring
Luxury vinyl meets the age of Aquarius with this sturdy, stunning family of luxury vinyl tile and plank. Offering up a wide, wide world of options, Aquarius luxury vinyl flooring has solutions for all of your most challenging spaces. Never compromising on style, Aquarius luxury vinyl offers up flooring designed to emulate all of your favorite hardwood species, minus the costly upfront costs and ongoing upkeep. At Carpet One Floor & Home of San Ramon, CA we carry a full line of pretty, yet practical Aquarius luxury vinyl flooring products.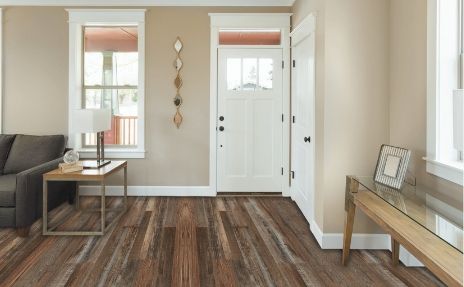 Aquarius Luxury Vinyl Flooring Fundamentals
Whether you prefer a traditional vinyl tile, a resilient plank, or a resilient wood plastic composite (WPC) hybrid, Aquarius luxury vinyl flooring has just what you're looking for. With many waterproof options aimed at managing your home's high traffic and heavy splash zones, Aquarius is built to complement its surroundings while standing strong against everyday accidents, climate fluctuations, and life on-the-run. Aquarius can even be installed in your bathroom, laundry room, kitchen, or finished basement.
Aquarius flooring can be installed over all types of subfloors, with many designed to simply click together via tongue and groove joints – no messy nails or adhesives required. Ensuring your family's ongoing safety, there are Aquarius options designed to offer optimal slip resistance, even when life gets rather messy.
Why Choose Aquarius?
Aquarius luxury vinyl flooring is heavy on style and never compromises on function. Affordable flooring made to look ultra-affluent, Aquarius luxury vinyl is designed to hold strong for a long, long lifetime. Armed with a resilient WPC core, virgin PVC backing, and a resilient urethane wear layer, Aquarius is your secret weapon against everyday damages.
Style, of course, remains right on the forefront, with a wide span of selections capturing the distinctive grains and patterns of all your favorite hardwood species and stone varieties. There are even exotic offerings like driftwood, acacia, elm, and onyx. Want to learn more about Aquarius luxury vinyl flooring products? Visit our showroom today and discover our enticing product displays.